Hey folks!!! How're you doing? Check this out, although the Mighty No.9 and Shantae 1/2 Genie Hero Kickstarter funding periods have ended, you can STILL donate and get the rewards for doing so!!! You'll have to have a PayPal account (which is relatively simple and easy to sign up for). Mighty No. 9 has surpassed my expectations and managed to meet ALL of its stretch goals. They raised a combined total of $4,031,550!!! Mighty No.9 is expected to be released sometime around April 2015.
Shantae: 1/2 Genie Hero on the other hand needs your help. Although it has managed to meet four of its nine stretch goals, the fifth one is inching towards completion.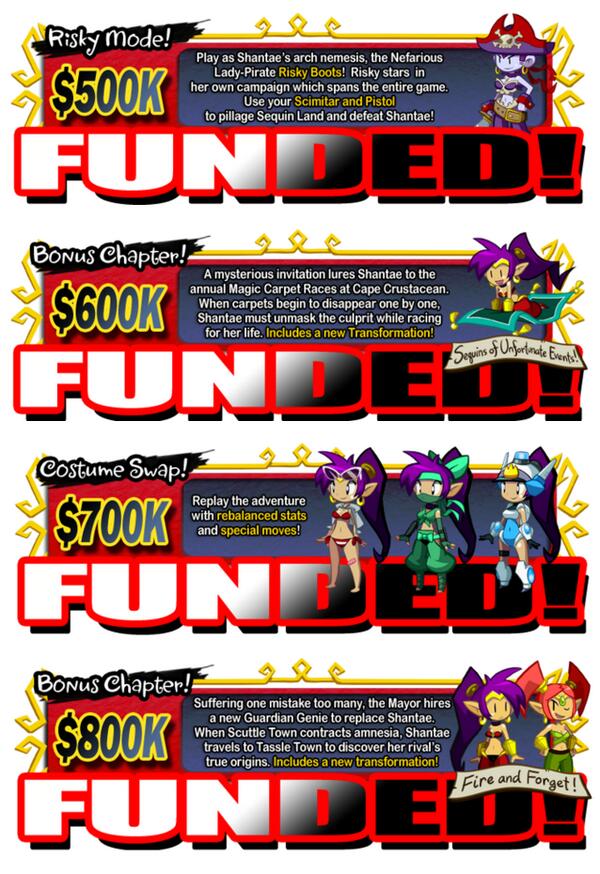 If successful, the WayForward team would be able to allow players to go through the main story as one of three additional characters, Rottytops, Bolo, and Skye!!!
As of this blog post, Shantae: Half-Genie Hero has earned $816,529. WayForward needs another $83,471 to meet this goal. So, tell your friends and neighbors that are gamers that they can
still
contribute!!! The game will be available on multiple platforms (Wii U, PS3, PS4, VITA & VITA TV, Xbox 360, Xbox One and Steam (Windows PC)) and will be available sometime in October of 2014. Spread the word any way that you can!!! You can find the link to their main website (with PayPal options)
here
.